Two Minutes with Elvin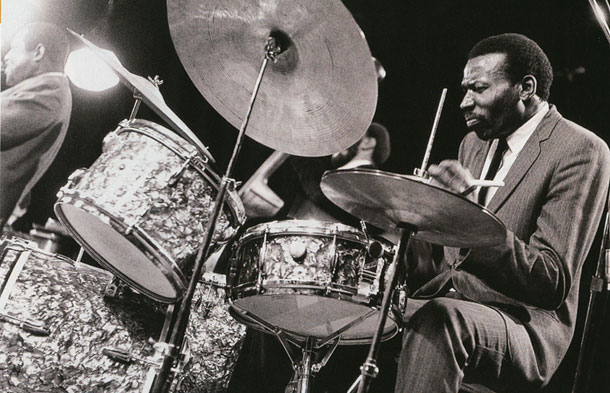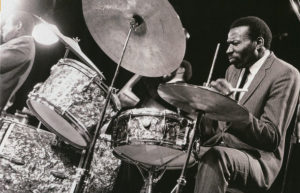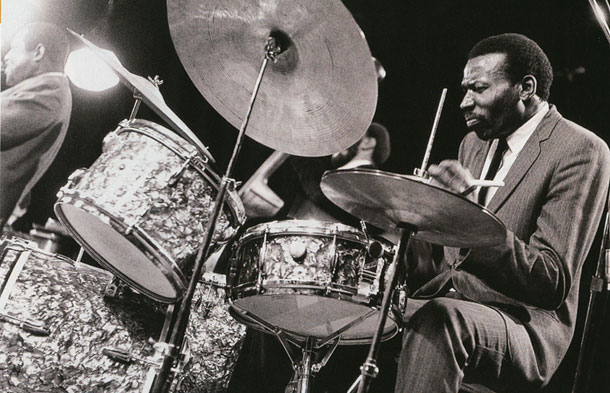 To me sometimes, certain people seem bigger than life. There is something special that separates them from the rest of the pack. I'd bet that anyone who's met or known Elvin Jones would say that about him.  
I'm estimating it was around 1995, Jumpstreet was working a wedding at the Charles Hotel in Cambridge, MA. Inside the Charles is a great jazz club called The Reggata Bar. Members of Jumpstreet at the time included Peter Calo on guitar and a wonderful saxophone player and friend from Boston, Myanna.
Everyone was being stoic but my excitement was visibly boiling over because Elvin Jones was playing in the Reggata Bar! I was chomping at the bit to get a chance to see Elvin live.  Knowing the staff at the Charles, we were allowed to sneak in and catch some of Elvin's show. I had never seen him play and it was so cool to hear and see those signature licks and a-bombs come to life (and that was with brushes). 
The band finished their first show and Ravi Coltrane turned to us and said, "Hey, Myanna." I never asked Myanna how she knew Ravi. They struck up a conversation.
Meanwhile,  I had stepped out into the elevator area where I knew Elvin would be heading. Elvin came strolling over and it was just he and I. A white towel wrapped around his neck and the steam coming off his body added to his giant aura. I mean, the guy had a presence about him. 
I knew deep down that he was just a mortal like me, but there was something, an energy, almost like an invisible light around him. I didn't want to bug him with something so trivial,  but I knew I would never get a chance like that again to get a keepsake of that moment.  
He was a big guy and I stood there like a little boy looking up at him. He was smiling at me. I think he sensed that I was a little uncomfortable. It was a welcoming smile. He was so unpretentious.     
"Elvin, would you sign this for me?" I held out one of my business cards and a pen. He took it from me, kept smiling and asked me my name. "Mike" I told him. 
Still with the big grin he wrote, "To Mike, Elvin Jones." What a treasure. 
This coming Sunday (May 18th) will mark the fourth year since Elvin left us. He had a long life and his contribution to jazz is unmeasurable.    
Years later, I remember driving to Dave Mattacks' house for a lesson. During the 26-mile drive I was listening to something Coltrane. I think it may have been "A Love Supreme." When I arrived at Dave's I said — looking for some insight — "I dunno man,  I've been listening to Elvin on the way down here and I can't even visualize what's going on…..I have no idea what the heck he's doing." Dave just laughed and said, "Mike, no one does."